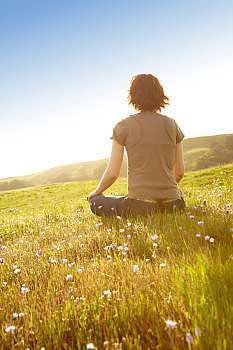 Meditation in Everyday Life - Online Wednesday night classes and optional in-person Sunday morning practice sessions
with Shastri Mark Blumenfeld & Margaret Turnbull
While meditation has many proven benefits, establishing a consistent personal practice can be challenging. Meditation in Everyday Life is designed to help new meditators learn the basics of Mindfulness Meditation practice and bring the benefits to their daily lives.
Through establishing a consistent meditation practice, we learn to relax and simply be with whatever is going on in our lives. Over time, this meditation helps us to cultivate courage, humor, and stability in the face of the daily complexities we all experience – our jobs, relationships, and all aspects of daily life.
Meditation in Everyday Life combines technique and view in a setting of support and community to provide you with all the tools you need to establish a strong and consistent meditation practice.
Online Wednesday night classes cover the following ground:
Class 1: The why and how of meditation – Foundations of meditation
Class 2: Settling and being - Mindfulness and awareness
Class 3: Obstacles & Antidotes – Practical advice for regular practice
Class 4: Joining body and mind - Developing a caring attitude
Class 5: Going beyond the cushion - Mindfulness in everyday life
In addition to online classes, participants will have the option to meet at the Madison Shambhala Center for guided meditation on Sunday mornings during the course of the class and join the community in Sunday morning meditation practice.
As a theme throughout the course, we'll explore the view that creating stability and gentleness in our minds can expand outward to our friends, family, neighbors, and to society as a whole.
Meditation in Everyday Life begins Wednesday evening September 29. Give yourself the gift of meditation and infuse your life and the lives of those around you with compassion, caring and kindness.
Zoom link for the class will be made available after registration.