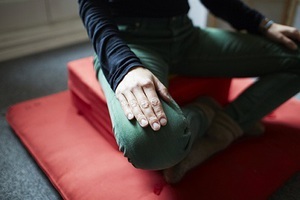 Nyinthun Practice Day - Open to All
A Nyinthun is a full-day group meditation practice, a chance to deepen one's own practice. The day will include periods of sitting and walking meditation, yoga, tonglen and contemplation. Functional silence will be observed during the entire Nyinthun.
Meditation instruction can be provided.
We encourage you to lean into your meditation practice and attend the full Nyinthun. If you cannot, please join us when you can. Time your arrival/departure for the top of the hour during walking meditation so that there is as little disruption as possible.
We ask for a $20 donation or whatever you can afford.
Schedule:
9am-12pm: Opening chants and meditation
12pm-1pm : Mid-day meal
1pm-4pm: Meditation and closing chants
Information regarding the Mid-day meal
The meal will be eaten mindfully in the shrine room.

You may bring your own meal or buy your meal at the near-by Willy Street Co-op.

We ask that you maintain functional silence during the meal time.