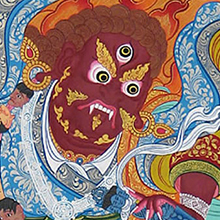 Understanding the Sadhana of Mahamudra (Online)
with Shastri Mark Blumenfeld
The Sadhana of Mahamudra is a practice offered to help uncover our innate wisdom and compassion. Praised for its vivid and poetic language, the sadhana is a powerful touchstone to the Tibetan buddhist teachings that Chogyam Trungpa aspired to plant in the West.
This on-line course will cover the history and essence of the Sadhana, and will guide students through the structure and meaning of the Sadhana's liturgy. Through the study of the Sadhana, we will examine basic tibetan buddhist principles and reflect and discuss how the Sadhana deepens our understanding in both mind and body. Each class will have guided meditation, a talk and discussion.
A zoom link will be sent once you are registered for the class. Real-time class attendance is encouraged, but Zoom recordings will be available to allow you flexability with the class schedule.
The class will be mixed with weekend practice of the Sadhana, scheduled for Saturday mornings at 10:00 am to 11:15 am, October 24, 31 and November 7 and 21. These practice sessions are open to the community.